Unverified Voracity Is Cooler Than Dan Persa
Elsewhere in the thoughts of people who are Dave Brandon. Brandon speaking on the football team's season:
"The team has the opportunity to practice 15 days and prepare for a bowl game, which they've earned the right to," Brandon said. "I have so consistently stated what my process is, how I do this, and what is in the best interest of the program. That's what I do, and that's what I'm going to do. All of this desire for information sooner, all this speculation is fueling curiosity — it doesn't change how I'm doing my job.

"Back when we were 5-0, I said (this would be the evaluation process), along the way, I've said it, after exciting wins I've said it. This is how I'm going to do my job. I have not equivocated on that at all. Just because people out there are stirring the pot, that's not going to deter what I'm going to do."
Since every scenario out there has Michigan in a bowl on New Year's Day or a few days after Christmas (the Insight is the 28th), the final word will have to wait a full month. Stanford is likely headed to the Fiesta Bowl on January first, so a hypothetical transition could take place immediately without putting Harbaugh in the same bind Miles or Kelly was. There's a theory floating out there that letting Rodriguez coach the bowl is tantamount to keeping him for 2011, but given the Harbaugh situation I don't think that's true. It's not an indication either way.
Harbaugh will not be at the Football Bust on Thursday, at which the '85 team will be honored. Tickets are still available, BTW.
Denard Robinson: awesome. Not a quarterback. So Denard Robinson is the Big Ten's offensive player of the year, which is nice and obvious. He's also not even on the coaches' All Big Ten list, which lolwut? I get Scott Tolzien—he may not have to throw much but when he does it's in the chest of his receiver every time—but Dan Persa? He's got the numbers, I guess, but being at the helm of an offense that's actually good at scoring and stuff is kind of important for a QB and the Wildcats are just 51s in total offense, 74th in scoring, and 21st in passer efficiency. That last number sounds good but is only 5th in a QB-heavy Big Ten. Kirk Cousins, Tolzien, Stanzi, and Pryor are all ahead of him with Denard not far behind and with a vast advantage on the ground.
In other All Big Ten QB news, Terrelle Pryor is still as likeable as Stalin.
Steadily more and more likeable. Meanwhile, Tate Forcier explained to his local paper his thought process about staying with the program after the infamous "I'm out" moment that sent Tom scrambling to Papa Forcier to put out the fire. Via MGoShoe:
"It's hard to go from starting to backing up. A lot of people told me to leave. I wanted to leave. But it was just too hard. I didn't want to leave the (coaching) staff or these players. I felt I was going to be a part of something great."

"Two quarterbacks have to play in this offense. It might not happen every game, but you're going to get your chance. I'm not banking on Denard getting injured. Nothing like that. But in this offense, you never know what can happen."

"A lot of people would think me and Denard would have something against each other because he starts, but Denard is a good guy. We hang out. And he works hard. What's hard for me is he's having so much success and there's nothing you can do about it except stay ready."

"I've learned to be way more humble. I look back at freshman year, and I was a little cocky. I was getting too caught up in seeing myself on TV every week. I think that would happen to anybody who would go from being a regular kid in high school to a national stage like that. It was crazy."
I said something early in the year about how Michigan would need Forcier down the stretch, and they did. He finished off the Illinois win and was a third and ten stop away from driving for the tie against Iowa; if he'd actually been "out" Michigan would not have been able to redshirt Gardner and we probably wouldn't be talking about retaining Rodriguez at all.
I also said I'd be meh about Rodriguez leaving, and while that's largely true I think my overwhelming feeling would be sadness that guys like Denard and Forcier and everyone else who signed up for the RR era would not get to finish their careers on the terms they started them.
These uniforms designed for personal fouls. Another reason it's good to get away from Nike:
"The gloves had a black 'Block O' on the inside when you put your hands together and so that's what (Posey) was trying to do," receiver Dane Sanzenbacher said.

But he didn't celebrate his redemption for long. The referee gave Posey a 15-yard penalty for excessive celebration.
Gesturing to the crowd, even if it's your crowd, gets you a flag. Unless it's this…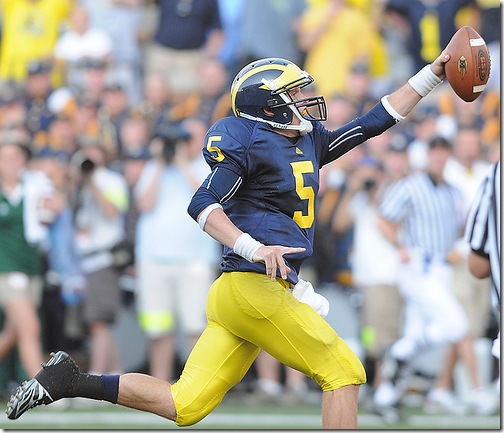 …or dozens of other motions like shushing the crowd that go unpunished every week. File under the massive pile of data that suggests the NCAA should just drop excessive celebration penalties for anything short of taunting.
Opinions I Officially Do Not Care About but you might. Opinions on the Rodriguez job thing—you know, that—from Mets Maize:
Having said that, I do support Rich Rodriguez returning for 2011 IF changes are made on the defensive staff. My reasons are pretty consistent listed above, but the one that stands out the most is the offense. It simply makes no sense to fire the only man who can take this offense to the next level next year. People often talk about how "young" our defense is, which sort of implies we have a relatively older offense. If by "older" we mean not true-freshman, then yes, we have a veteran offense. But the fact is we're prime for not only 2011 but also 2012--Denard's senior year. So that leaves the defense to which I ask...

What added benefit does a change in HEAD COACH give to the DEFENSE that a change in DEFENSIVE COORDINATOR wouldn't bring?
Beaford at Maize n Brew:
Rodriguez should get broomed and Harbaugh should be installed here, but if that doesn't happen my reaction will largely be "meh."  In the three years that he has been the head coach, the offense have demonstrably improved, just as we thought it would.  The problem is that the defense has actually regressed each year.  Even before the Woolfolk injury, this defense was set up to be likely the worst in program history.
And Markus at MNB drops references to David Foster Wallace on Federer and Brian Phillips on Pele, which means it gets autolinked. It's long and not really blockquote-friendly but recommended. My mom, by the way, believes Rodriguez is "not a Michigan Man" and would like to see him gone. Road Games also drops Richard Buckner.
Let's say it again, then.
Etc.: Anne Hathaway proposes "Anne Does Ann Arbor." As someone who has viewed the Get Smart remake I heartily endorse this idea. This Week In Schadenfreude is epic this week. Apparently I missed the date on the "Everyone in Iowa Drinks Four Loko" fanpost at Black Heart Gold Pants, but seriously I'm guessing that happened again after they lost to Minnesota. Brabbs surveys the Michigan-vs-cancer matchups going on. AnnArbor.com's take on the Denard Robinson story.