Soccer Preview Type Substance: Akron
Essentials
WHAT
#10 Michigan vs #3 Akron
WHERE
Harder Stadium, Santa Barbara, CA
WHEN
11:00 Eastern, December 10th 2010
THE LINE
College soccer lines, junkie?
TELEVISION
ESPN2
WEATHER
Sunny, around 60
0% chance of rain
Right: meet the only context in which this is 100% appropriate.
Reminder
Livebloggin' is in effect starting maybe a half-hour before the game.
The Problem
And here's where the problem kicks in: how does one preview a soccer game? Stats are sparse on the ground, there's not a clean division between units that allows for easy compartmentalization, I haven't seen Akron play and have rarely seen Michigan, and while I am outstanding at Football Manager—truly righteous—most of my skill comes in identifying hot young talents other teams are content to give away for peanuts.
Let's start with what we know: Michigan's last loss was against this Akron team. It was not a pretty one. Michigan got clunked 7-1—Akron's biggest margin of victory on the year. They also lost 1-0 in a spring exhibition at the Silverdome.
Ives Galarcep's most recent MLS draft "Big Board" has Akron players at…
1. Darlington Nagbe, M/F
2. Perry Kitchen, DM
3. Kofi Sarkodie, DR
5. Darren Mattocks, F
8. Zarek Valentin, DC
18. Anthony Ampaipitakwon, M
25. Michael Nanchoff, ML
…this is seven of a starting eleven in the top 25. Michigan has one player, Justin Meram, at 25. (In the comments, a "Seth Brokekicker" admonishes Galarcep for hyping Meram up when he's needed on campus next year.) Someone asks about Soony Saad and Galarcep says he's on the 2013 board.
I bet not even Jamiemac of Just Cover can find a line for tomorrow's game, but if he does Michigan will be an impressive underdog. Akron is be the #3 seed and while Maryland was the #2 and beat Akron 3-1 in an exhibition last spring it's hard to find a reason Akron wasn't far and away the #1 seed in the tournament if they don't manage a single loss against Cleveland State(!) in late October. Their schedule wasn't great and as a result their RPI was fourth. Michigan's was worse. Before the tournament they were third in a stretch of Big Ten teams ranging from 12 to 15; Indiana was 12th and first in the league despite going only 9-7-2 against D-I. 
Michigan
One man's scouting report follows. This guy has seen three games this year, has not had the benefit of replay except once, and is not Zonal Marking, so bear with me.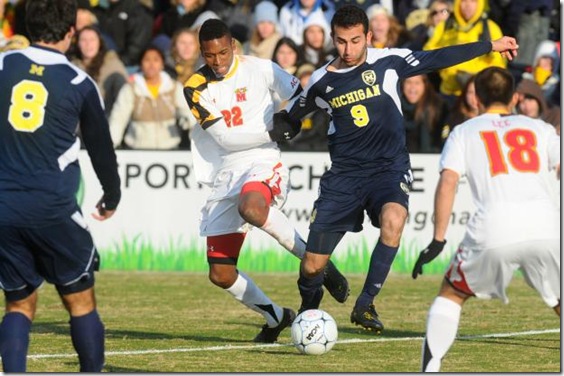 Meram vs Maryland. Jake Fromm/Daily
Anyone will tell you that Michigan's strength is in their attackers and this is true. Freshman Soony Saad is the nation's second leading scorer and rookie of the year with 19 goals; he's a crafty shooter who scored from his own half this year and scared the hell out of UCF's goalie when he tried it again in Michigan's tournament opener. Strike partner Justin Meram is a soccer version of TJ Hensick or Mike Comrie, a gifted dribbler and accomplished sniper who's all right physically but will not wow you. At the UCF game a friend of mine turned to me and said in all seriousness "he's better than Robbie Findley," and I thought to myself "this is literally true." When in doubt Michigan chucks it up to Meram and hopes he can run onto it.
Soony's brother Hamoody alternates between a central attacking midfield role (Michigan plays with a dedicated destroyer behind him, relieving Hamoody of many defensive duties) and a wing spot, where he interlinks with both forwards. He's often the player who touches the ball right before the guy who gets the assist. He's not as much of a threat with the ball at his feet as the two strikers but is good at getting them involved in space.
The two wingers are usually senior Alex Wood and sophomore Latif Alashe; Alashe is more immediately impressive but Wood was the guy who sprung Meram for the tying goal against UCF. Alashe deflected the winner into the net. Those five attackers are the strength of the team.
 
so gritty snow follows him around in the hopes it will become sand.
Said Alsalah/Daily
On defense it's considerably wobblier. The defensive midfielder is redshirt junior Adam Shaw, who is a gritty, gritty man. By this I mean "5'8" and not very fast." He makes up for this by being dogged. The word just sort of leaps into your mind as you watch him play. That kid—dogged, that kid. He could be to be a weak link against a rampaging Zips midfield. With Hamoody Saad upfield and multiple Akron players capable of dropping into the hole or effectively transitioning into attack he's going to have his hands full unless Michigan makes a tactical change.
The defense has scared me in games against mediocre opponents this year and was obviously gunned down in spectacular fashion in the game against the Zips earlier in the season. Since it is my fate to not like the left fullback on any soccer team I've ever watched I haven't been a big fan of Chase Tennant; he was pretty weak in two of the three games I saw and while he was better against UCF he still gives away possession flamboyantly. He's not an offensive threat.
Right back Jeffrey Quijano is a senior who fought through a challenge for his job and reclaimed his starting spot midway through the season. He's prone to leave his feet in bad situations but is much better on the ball than Tennant and can be a threatening presence down the wing. Quijano scored one of Michigan's goals against Maryland and put Meram's on a plate after slaloming through several defenders. (Or so Goal.com says. I have no idea since I was at the basketball game.)
The central defenders are okay. I like Kofi Opare better, as he seems less prone to misjudge long balls and better at developing possession from the back. Brian Kemczak is his running mate and has come off like Jay Demerit—solid defensively but a hoofer as soon as it touches his foot. I have gotten a sense of vague disquiet whenever the ball is bouncing around the box and can't tell if that's justified or just how I watch soccer.
I didn't notice much about goalie Chris Blais but the guy next to me at the UCF game muttered something to his friend about how he had "frankly been a weak link." That guy sounded like he really liked Prairie Home Companion and said something patronizingly moralistic about a yellow card he thought had gone to Soony Saad for rolling around theatrically after someone had stepped on his foot. Said yellow had actually gone to his brother for dissent. So take that with a grain of salt. I thought he could have done better on the UCF goal, which pinged around the box and probably should have been fisted away*.
Miscellaneous bits. Michigan is very good at set pieces. Soony Saad is a bomber who's a threat to score by shooting; Hamoody takes the corners and usually drives hard in-swingers. He was the motive force behind Michigan's game-winner against UCF when he swung in a terrific ball that was headed for the net and just needed a tiny deflection to wrong-foot the goalie. It reminded me of David Beckham's World Cup goal against Paraguay:
In this case the touch was from a Michigan player; on both the initial ball did 90% of the work.
Michigan did catch a bout of short corner disease against UCF, so be warned.
Akron
Search me. They're really good, tied for the national lead in scoring at 2.65 goals per game (tied with most recent Michigan victim Maryland) and sixth-best defensively, ceding just 0.63 per game. Michigan's at 2.17 and 1.42, respectively, so they're close to the Zips on the front line but not so much on the back. If you take out the Akron game those margins get way smaller, but hey—we're playing Akron.
Coach quote from the Tulsa guy after getting whipped:
"They're very opportunistic," Tulsa coach Tom McIntosh said. "And they are very good on set pieces. They don't need many chances for goals. The problem is we got two goals down, then we had to chase the game. This is not a team you want to chase a game against."
Michigan can vouch for that. There's an interview with a couple recent alums that is beyond boring.
Grant Wahl** names literally half of Akron's outfield players as people to "keep an eye on" and naturally picks them for the title:
Keep an eye on Akron forwards Darlington Nagbe and Darren Mattocks, midfielder Perry Kitchen and defenders Kofi Sarkodie and Zarek Valentin; Michigan forwards Justin Meram and Soony Saad; North Carolina midfielder Michael Farfan; and Louisville defender J.T. Murray. The national semifinals will be broadcast on ESPNU and ESPN2 on Friday, with the final being shown at 4 p.m. ET Sunday on ESPN2.

I'll go with Akron to win it all. Coach Caleb Porter has had the most talent in the country for a while now, and all he needs to validate his program's success is an NCAA championship.
Wait… what? Their coach is 35? That's loony.
Prediction
Soccer predictions are even dumber than football ones, which are dumb but I feel I have to do. But: given the previous matchup, the ridiculous concentration of talent on the Akron roster, and the feeling they're the heavy favorite to win the entire tournament, I'm not expecting victory.
On the other hand, Cal almost ended them in OT and soccer specializes in WTF moments. Back in 2002 I've got no idea what's going on when I turn on the TV in Ireland and catch Manchester United playing the improbably-named Zalaegerszeg. Man U dominates but never cracks the defense and then in stoppage time this happens:
This would not be anywhere near as titanic an upset, obviously, but it's tonic for anyone looking at 7-1 earlier in the year and wondering how the rematch could play out the other way.
*(If you're looking to start a soccer blog you could do worse than "Fisted Away.")
**(Prepare to experience the odd frisson of a relevant Grant Wahl tweet in a liveblog, kids.)