The Climb, Part II: The Hit
[Ed-Seth: This being the 20th anniversary of the 1997 National Championship, Michigan historian Dr. Sap offered to revisit a game a week so you can re-live it all in real time. These articles are part-story, part videos so make sure you watch those.]
---------------------
Sept. 20, 1997: Michigan 38, Baylor 3 [Boxscore]. 2-0 (0-0 Big Ten)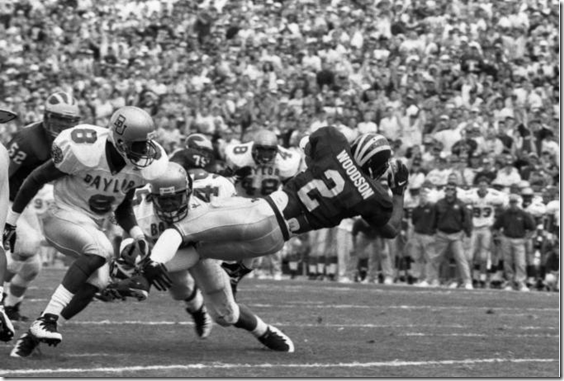 Michigan turned to Woodson when the offense needed a spark. [Bob Kalmbach, courtesy UM Bentley Library]
A team is a team, a win is a win, and it's hard to find fault in a team that wins 38-3. But after a brilliant opening game against an expected national power, Michigan did not exactly thrash an overmatched opponent like they were expected to. The offensive line could not get much push against an overmatched DL. The passing game felt clunky. The defense were playing on their heels. Getting past their big opener might have revised expectations to three losses instead of the usual four, but watching them the next week you'd think it would take a miracle machine to take down the monsters on the back end of the schedule. But then, the Baylor game was also the moment you realized Michigan might have one of those. Offense, defense, or special teams, when the Wolverines needed a big play they could get one. It wasn't luck. It was the most outstanding player in college football. It was Charles Woodson. And it was totally unfair.
After looking so good against Colorado the week before and moving up in the national Rankings to #8, the game against Baylor was supposed to be no contest. While it pretty much was, looking back, it also proved to be a microcosm of the 1997 season for Lloyd Carr's team.
Sure Michigan won, 38-3, but to say that the Maize and Blue didn't look as crisp and as sharp as they did against the Buffaloes was the understatement of the year. The defense held up their end of the bargain by not giving up a touchdown for the second straight game. Even though Chris Howard was moving the chains and freshman Anthony Thomas was moving the pile, the offense was getting bogged down with penalties and dropped passes. It was painfully evident that there was no playmaker on that side of the ball who could hit the homerun. The Special Teams were anything but, as they dropped a snap from a punt, missed a field goal and Charles Woodson even fielded a punt inside the UM 5-yard line and was tackled for no gain. There was plenty of work to do coming out of this game, as the Wolverines looked nothing like a National Championship team at this point in the season.
[Hit THE JUMP unless you are the mother of a Baylor receiver]