Unverified Voracity Has A Lot Of Video
Countdown to Kickoff exists again. Talkin' with Devin Gardner:
Countdown to Kickoff 2013: Day 30 - Devin Gardner by mgovide
So that explains that. If you were wondering why Michigan's option plays weren't actual option plays the last couple years, well, yeah:
"We did it [the Wildcat] in OTAs and a couple of times he ran the ball and fumbled the ball and he didn't know how to pitch," Bradley said, according to the Register.
The one time he did try to pitch on a speed option was when he got lit up in the backfield, and that was a fumble.
Oklahoma State was not always good. Wolverine Historian presents the 1992 non-classic:
Gardner on Darboh. I think both of last year's wide receivers are on pace to work out, and Darboh is ahead of the curve:
"He's just a great athlete," Gardner said of the wideout. "He's strong, he's fast, he catches the ball well. He's pretty much everything you could ever want in a receiver."
Gardner compares Darboh to Junior Hemingway, but fast. No, seriously:
"He goes up and gets the ball just like Junior. And he runs fast."
I'll take it.
O'Bannon-related victory. I thought Sam Keller's lawsuit had been folded into the O'Bannon suit, but apparently not. They've just won at the appellate level:
By a 2-1 vote, the 9th U.S. Circuit Court of Appeals said EA's use of the athletes' likenesses in its NCAA Football and NCAA Basketball games did not deserve protection as free expression under the First Amendment of the U.S. Constitution.
EA is disappointed that free speech doesn't cover important things like college football videogames using the representations of people without mentioning it to them, and plans to appeal, for all the good that will do.
They'll have to name him Lack Of Seat Cushions. Sorry, those are the probably fictional, possibly offensive stereotypical Native American rules:
I don't make the probably fictional, possibly offensive stereotypical Native American rules. I just enforce 'em, lady.
Jordan Paskorz: I'm not dead yet! Michigan could use some tight end depth with veteran Mike Kwiatkowski departed, and Jake Bu—MAH GAWD THAT'S JORDAN PASKORZ'S MUSIC, AT LEAST I THINK IT IS BECAUSE I'M NOT SURE HE EVEN HAD SOME:
[Paskorz's] career has since been derailed by seemingly interminable instability.

But that's about to change, as he enters his second season at tight end and seems to have fought his way into the rotation as a blocking specialist. …

"What I like is, we settled him into that position and I think he can be a guy who gives us a little more on-the-line-of-scrimmage movement. That's exciting."
At 6'3", 251, he is about the right size to be more of a pusher at TE. AJ Williams is a guy Michigan will ask to fill that role as well, but he needs a lot of technique work to get there. We'll see if the talk translates into playing time.
When do I get to be on a bulletin board? Because if Steve Everitt's lighthearted jab at Kirk Cousins qualifies…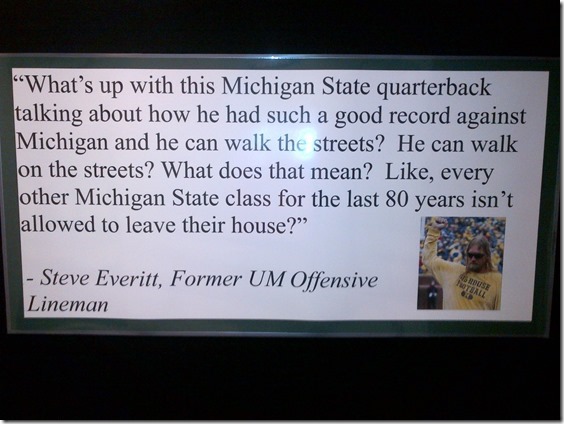 …surely I can come up with something vile enough to get up there despite not being a viking. Hey, Spartans! You smell! Bad!
I'll work on it.
In related news, Dave Brandon once again reiterated that he doesn't want a night game in the series. This is correct. I hope the real reason is wanting to tweak MSU by playing anyone but them at night, but I'll take "don't want a bunch of East Lansing people drunj" after the Gathering of the Juggalos that was two years ago.
Speaking of. UTL II Hype Video:
Glenn Robinson: now he can jump. Yeah, now:
His vertical is up four inches to 12'3".
Etc.: Introducing Dr. Gay Hitler, who was of course from… Ohio, and the son of George Hitler, and a dentist.
Here is a class of 1927(!) alum talking bout her days on campus. Oregon has some money. People don't like dynamic pricing, except for that one guy on facebook who hasn't been to a game since 1982 but likes being a prick to people on the internet. Bill Connolly previews Ohio State. Lewan talks Gholston punch.