Reclaiming the History of Helmet Stickers
high-rez sticker courtesy Dr. Sap's Archives
[Ed (Seth) note: This article appeared in the 2010 edition of Hail to the Victors. Because they're bringing the stickers back, we thought to bring this article back.
Author John Kryk is all over the latest HTTV, with an original piece on the 1985 football team and an excerpt from his latest book Stagg vs. Yost: The Birth of Cutthroat Football, wherein Yost used horizontal offensive attacks and fast tempo to bewilder our chief rivals.
If you'd like to get our book, you have 4 days to get in on the Kickstarter.
If you'd like to get Kryk's book, it is scheduled to go on sale in mid-July and can be pre-ordered direct from the publisher.
A huge thanks to Dr. Sap and readers who sent in their pics of stickers.
Wolverines On Your Head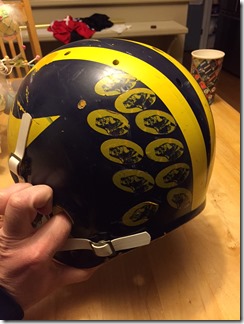 Back of Derrick Walker's helmet from 1989, now in possession of reader Rob Graham.
By John Kryk
When Jim Mandich, Dan Dierdorf and the '69 Wolverines dumped Woody Hayes' dream team, they sported reward stickers on the backs of their famous winged helmets.
So did Rick Leach when he led Michigan to two Big Ten championship victories in Ohio Stadium. And Anthony Carter when he caught that 45-yard lightning bolt from John Wangler against Indiana. And Jim Harbaugh when he crushed the Buckeyes back-to-back. And Leroy Hoard and Tyrone Wheatley when they ran roughshod in different Rose Bowl wins. And Desmond Howard when he made The Catch against Notre Dame, and when he struck The Pose against OSU. And Remy Hamilton when he gut-kicked Lou Holtz and the Irish.
But Michigan players' helmets haven't featured those maize, football-shaped reward stickers since Lloyd Carr took over for Gary Moeller in 1995.
It was a tradition begun at Michigan by Bo Schembechler in 1969. And, no, Bo wasn't copying Woody Hayes—as almost everyone today believes, especially the mouth-readers south of Lake Erie. The accepted story today is that Hayes's 1968 Ohio State Buckeyes inaugurated the college football tradition of placing reward stickers on their helmets after each game. An ESPN.com feature story in 2008 reiterated that it "all started with those buckeye leaves."
Only it didn't. Guess who beat Woody to the punch, even within the state of Ohio? Why, none other than Bo. It was Schembechler, Hayes's most famous pupil and eventual arch-rival, who'd begun the practice in 1965 at Miami University in Oxford, Ohio.
courtesy Miami University Libraries
[At the Jump: how the bird poo got on the Buckeye helmets, right before the guy who invented the stickers brought them to Ann Arbor]