Unverified Voracity Roots For Staee
SON OF A. I should have read this message board post before I posted the game column. Here's some car vandalism from the weekend that would have been a perfect insert: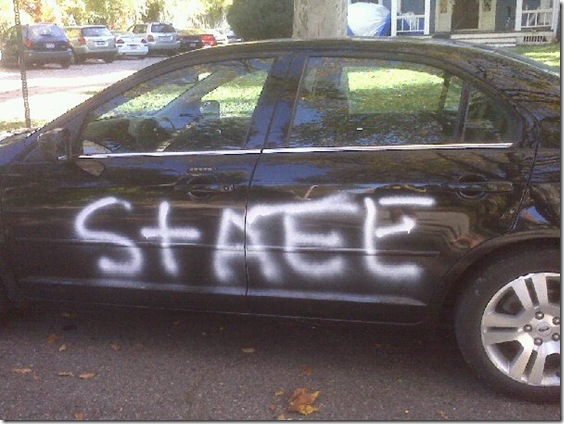 This is what happens when you drop your vandalism major.
Thanks, Les. The Les Miles misery machine managed to bump Michigan below the fold in TWIS…
…so thanks for that. The Michigan section is devoid of anything like dong-punching, but only thanks to this guy and his rageohol:
This is not me. I was in the stadium one row behind an adorable child. I swear it.
Penn State implosion explanation, implications. How did Illinois run for almost 300 yards against Penn State's normally tough defense? It was the second string D:
DIDN'T PLAY

Linebacker Gerald Hodges: Missed his fourth game with a hairline fracture but has begun running.
Defensive end Jack Crawford: Foot injury, spent game on crutches on the sideline, might need surgery, Paterno said.
Linebacker Mike Mauti: Missed game with a high ankle sprain.
Linebacker Bani Gbadyu: Knee injury.
[Ed: these two are my additions.] Defensive end Sean Stanley: suspended for violations of team rules.
Cornerback Derrick Thomas: suspended for violations of team rules.

LEFT GAME

Defensive end Eric Latimore: Sustained wrist injury on first play, could be out for an extended period.
Defensive back Nick Sukay: Possible torn pectoral muscle, also could be out for a while.
Defensive end Pete Massaro: Treated for dehydration symptoms and played with an injured left quadriceps.
Defensive back Andrew Dailey: Sustained possible stinger on helmet-to-helmet hit in second half.
Defensive tackle Jordan Hill: Aggravated previous ankle injury.
That's eleven guys from the two-deep, all of whom have seen significant playing time. Michigan plays Penn State in three weeks. It sounds like Sukay, Latimore, and Crawford will definitely be out. Mauti and Hodges could be out, too, and who knows what's with Stanley and Thomas. If it's serious enough for them to miss two games it's 50-50 they'll miss four.
While that sucks for PSU that opens the ever-widening window of opportunity Michigan has in Happy Valley. That will be a critical game for Rich Rodriguez unless Michigan pulls off the upset against Iowa, in which case it will only be a very important game.
The vault. MGoVideo has put a bunch of old newsreels from the 50s and 60s on the tubes. I linked one on the sidebar yesterday that didn't end so well. None of them actually end that well, though, since they're reels from the 50s, when Michigan was no good. The best I can do is a 6-2-1 Michigan keeping the Brown Jug in 1949:
Other hat-laden newsreels covering:
Newsreels only covered mediocre to terrible Michigan teams, evidently.
While we're idling in the 40s and 50s, a reader sent along this 1947 Time article on Crisler's Mad Magicians that sounds strikingly similar to what's going on around these parts sixty years later:
Michigan's 1947 Wolverines are a good bet to be the second team in Michigan's history to play in Pasadena's Tournament of Roses. They have been rated the nation's best. They are as unlike Fielding ("Hurry-Up") Yost's old-time Michigan teams as modern design can make them. There are no roughcast iron men on Michigan's 1947 squad. It is a collection of chrome-plated, hand-tooled specialists. Some never get a chance to make a tackle, others never throw a block. Usually none stays in a game long enough to work up as much sweat as the radio announcer, who tries to keep track of them as they trot on & off.

Michigan's shrewd Coach Fritz Crisler has taken advantage of the unlimited substitution rule. In the first four games of the season, Crisler's team used everyone but the water boy, and averaged 55 points a game.

The way they did it was something to behold. Lacking brawn, they have to be nimble. And jack-nimble is what they are —and as well-drilled as the Rockettes.
And if they had sports talk radio back then someone would call in to grouse about how this team is soft and doesn't compare to what all they had in dickety-two when Michigan beat back the Kaiser and called it a day. It's crazy that Crisler invented platooning—that anyone had to say "hey, now, maybe I should get people off the field from time to time." Also he said this:
"Confound it, if you want to be sensational, bounce the ball, turn a somersault, then pick it up and run."
This is exactly what Rodriguez says to Mike Cox.
Also, things were slightly more relaxed in 1947 when it came to everything. 24 year-old star Robert Chappius is described as such:
At the Phi Delt house, where he is president for the second year, he is a sharp bridge player and a whizz at cribbage. His card sense helps augment his G.I. allotment and the $50 a month he gets from his dad, who is an executive in a Toledo, O., porcelain-products company. On the practice field, Chappuis is very "coachable," which is exceptional in a senior. Chappuis learns easily, just as he does in the classroom, where he makes a C-plus average seemingly without ever opening a book.
Gambling! C+ averages despite never opening books! Coachable despite being a senior! In 1947 anything short of stabbing a man was good, and even that might be okay if the guy seemed German.
Iowa injury bits. Starting MLB Jeff Tarpinian is questionable. He played a little bit early in the Penn State game but left with an assortment of stingers, sending senior Troy Johnson into the lineup. Johnson got a "minor" concussion and was replaced by freshman James Morris.
So who is it this week? The Hawkeye depth chart lists Johnson first and Morris second—no Tarpinian. Everyone else save the battered tailback corps, now Adam Robinson and some freshmen, should be ready to go.
Firin' talk moratorium notification. This was inevitably going to happen after the first loss and it has happened so a note to emailers and whoever else: I'm not going to speculate on whether or not Rodriguez should or will be fired when there are six important data points coming up in the next month and a half.
Etc.: MGoUser tomcat sits next to TX LB recruit Kellen Jones on his flight home from Houston, reports back that he's a nice guy serious about academics. More MSU postgame from Dreaded Judgment and Genuinely Sarcastic; the latter is seriously overheated. I'm not sure what the Hoover Street Rag is talking about in theirs.