ESPN on the B1G's proposal for Athlete Welfare
http://sports.espn.go.com/espn/columns/story?columnist=wojciechowski_gene&page=wojciechowski/110525&sportCat=ncf
Gene Wojciechowski
On how Delany's proposal makes a lot of sense, and doesn't really hurt anyone. I'm bad at blockquoting but read some excerpts below. Also, it's not a ton of new ideas, some of the same things that Brian has suggested in fact, but it's really good that this is a front page article at the WWL, might actually help things come to fruition. There's even a shot of the Big House.
---
"The power broker -- Big Ten commissioner Jim Delany -- suggested a plan that would bridge the growing financial gap between the value of a scholarship and the actual sticker price of going to school. That average estimated annual gap of about $3,000 would be given to the D-I player to help defray the costs of, say, transportation, clothing, laundry and pepperoni pizzas. It works out to a whopping $8.22 a day."
"I never used the words, 'play-for-pay,"' says Delany. "I never used the word, 'compensation.' All I said is, 'Can we have a discussion? We'd like to have a discussion about providing a grant-in-aid that corresponds to the cost of education.'
"I never once mentioned that we thought it would undermine cheating. The kinds of comments, and the kinds of headlines, and the kinds of leads are so far removed and so far from what was said, it's pretty hard to understand. … I don't think in any of our discussions internally, or any of the discussions with our staff, or any of the thoughts in my mind was it ever thought about in terms of Ohio State, or agent issues, or any regulatory issues."
In its simplest terms, Delany's proposal is a cost-of-living adjustment for D-I scholarship athletes. It would make college life a little bit easier and, given the revenue the players generate for their universities, a little fairer. But nobody is going to buy a yacht with the additional money.
My favorite anxiety-filled response from those who instantly opposed the idea: Providing scholarship athletes with a "cost of education" increase would give such conferences as the Big Ten a recruiting advantage.
Delany's response: They're right, it would. After all, it only makes sense that a recruit might be more tempted to sign with a conference whose institutions can afford to put that $8.22 in his or her pocket each day.
[+] Enlarge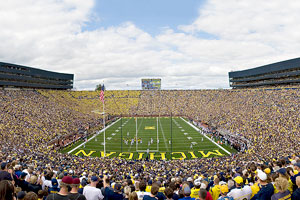 Scott Boehm/Getty ImagesSchools that can fill huge stadiums can afford to enact Delany's proposal.
But it's not like all conferences are created equal, or ever will be. The Big Ten, the Southeastern Conference, the Big 12, the Pac-10, the ACC and the Big East already enjoy recruiting advantages over other conferences. Their stadiums, arenas and practice facilities are larger and more luxurious. Their geographic footprints are wider. Their TV contracts are more lucrative. Their coaches' salaries are higher. Their tradition, Q ratings and alumni bases are more pronounced.