11/10/2018 – Michigan 42, Rutgers 7 – 9-1, 7-0 Big Ten
Confronted with every option for intrigue Michigan vs Rutgers could provide, BTN went with "who is Michigan's backup quarterback now?" The pre-game studio show teased it. The announce team mentioned it in the first quarter. There were multiple sideline shots of Joe Milton warming up next to Brandon Peters warming up. When the moment came, Peters entered, handed off to Chris Evans for a long touchdown, and was immediately replaced by Milton.
The prospect that Harbaugh was trolling BTN's angle crossed my mind. He almost certainly wasn't, but, it's not like he had anything else to do. In the aftermath of the game he praised Rutgers for not giving up ten yards a play and called Chris Ash "Rob Ash."
Rutgers. Whatever. Good… bad… Rob Ash is not the guy with the gun.
--------------------------
There is one bit of meaning that you might chisel out of the grim slab of a game against Rutgers. Michigan explicitly instructed Shea Patterson not to pull the ball, resulting in a fair number of runs wiped out near the line of scrimmage and a steady stream of third and mediums. Then they dialed up a bunch of high degree-of-difficulty throws.
Patterson nailed almost every one of them. He was flushed from the pocket away from his throwing arm; he calmly checked three options and hit Donovan Peoples-Jones on the third. DPJ hauled in a chunk fade on the sideline on another rollout left by the right-handed Patterson. Nico Collins got an inch-perfect back-shoulder fade for his second touchdown. Zach Gentry was permitted to explore the upper edges of the #buttzone on a seam. Oliver Martin had one TD doink off his facemask before scoring one on a two-man-route, max-protection throw from the Rutgers 16; Patterson slalomed through several defenders before finding literally the only option on the field just before it exited said field.
It felt like Michigan was calling the grossest stuff in their playbook just to see what would happen. Who puts two guys in a pattern from the 16? Who calls a short-side rollout to the left for a right-handed quarterback? Given Harbaugh's history, a man trying to make a point. The fourth quarter of Michigan's Citrus Bowl demolition of Florida a few years back featured Jake Rudock making a bunch of throws designed to end up on his NFL reel. That too was the grossest stuff in the playbook.
The 2018 edition of this wasn't aimed at the NFL, but rather Patterson himself. Patterson was asked to sit in the pocket and find guys. He was asked to take a bunch of deep shots despite a difficult wind situation. Harbaugh:
"That was a really tough night to throw the ball. It reminded me of my days back at Soldier field some of those windy conditions. But he made some throws that were just unbelievable. Put in the right spot with the wind blowing and swirling."
Some of those deep shots got pushed off course; a couple of back-shoulder attempts didn't quite come off. As the rest of Patterson's passes zinged home against a not-terrible secondary the ceiling on Michigan's offense might have come off. The faint outline of a Rudockening is now there, waiting to be confirmed or dis-confirmed in two weeks. Also against Indiana. But in two weeks.
A version of Patterson who's taking shots to his giant leapy crew of wideouts, a version that's sticking in the pocket long enough for Michigan's routes to complete, a version that's got the whole suite of throws down: that is the guy who might propel Michigan past Ohio State and into the playoff. The hesitant version of Patterson that's slightly frustrated during Michigan's revenge tour is less likely to do these things.
Harbaugh spent this game daring his quarterback to evolve. So far so good.
HIGHLIGHTS
AWARDS
Known Friends and Trusted Agents Of The Week
[Barron]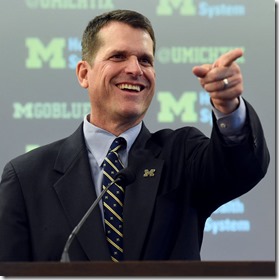 you're the man now, dog
#1 Shea Patterson. See above. 18/27 for 260 yards and three TDs. Zero rushes. One more week to stay healthy.
#2 Donovan Peoples-Jones. DPJ nosed ahead of his compatriots with a tough catch down the sideline on the aforementioned Patterson rollout away from his throwing arm and a slant on which he was able to rumble for an extra ten yards despite four different Rutgers players hanging off of him.
#3(t) Nico Collins and Zach Gentry. Tough catches for each to convert first downs and, in Collins's case, score. One point each because the points are made up and don't matter.
Honorable mention: More or less the whole defense, which had Rutgers in turtle mode the whole day. Nobody really stood out as Michigan spread out the reps and TFLs.
KFaTAotW Standings.
10: Chase Winovich (#1 ND, #3 SMU, #1 NW, T2 MSU, T1 PSU).
8: Shea Patterson (#3 WMU, #1 Maryland, #3 PSU, #1 Rutgers).
5: Karan Higdon (#1 WMU, #3 Nebraska, #3 Wisconsin), Donovan Peoples-Jones(T1 SMU, #3 MSU, #2 Rutgers).
4: Devin Bush(#3 ND, #1 Nebraska), Rashan Gary(#2 WMU, #2 Nebraska), David Long(#2 Wisconsin, T1 Michigan State), Josh Uche (T2 NW, T2 MSU, T1 PSU), Jon Runyan Jr (T1 Wisconsin, T2 PSU), Zach Gentry(T1 SMU, #2 Maryland, T3 Rutgers).
3:  Juwann Bushell-Beatty(T1 Wisconsin), Jon Runyan Jr(T1 Wisconsin).
2: Ambry Thomas (#2 ND), Josh Metellus(#2 SMU), Brandon Watson(T1 MSU), Lavert Hill(T1 MSU).
1: Will Hart (#3 NW), Mike Dwumfour (T2 NW), Kwity Paye (T2 NW), Khaleke Hudson(#3 Maryland), Ben Bredeson(T2 PSU), Nico Collins(T3 Rutgers).
Who's Got It Better Than Us(?) Of The Week
Harbaugh's post-game press conference in which he noted that all of Michigan's injuries were minor.
Honorable mention: Eh, most of the rest of the game.
​MARCUS HALL EPIC DOUBLE BIRD OF THE WEEK.
An 80 yard touchdown run from a guy whose name is misspelled allows Rutgers to close the first quarter 7-7.
Honorable mention: Karan Higdon cuts away from a first down on fourth and short; Ben Mason loses his mind on a short yardage run shortly after; various other Rutgers first downs.
[After THE JUMP: what happened on the 80-yarder]