The WSC for 2013 is over and Generation has finished. I cannot provide you with their final finishing position because the WSC hasn't posted the final results yet. I believe they retained ninth place. UPDATE: Ninth place is their confirmed finishing position.
Here, team members await Generation at the End of Timing. The EoT mark is actually outside of Adelaide so that cars don't have to try to race thru the congestion of city traffic. Hindmarsh Square is the actual finishing line but the ride into the heart of Adelaide is more ceremonial, kind of like the last day of the Tour de France.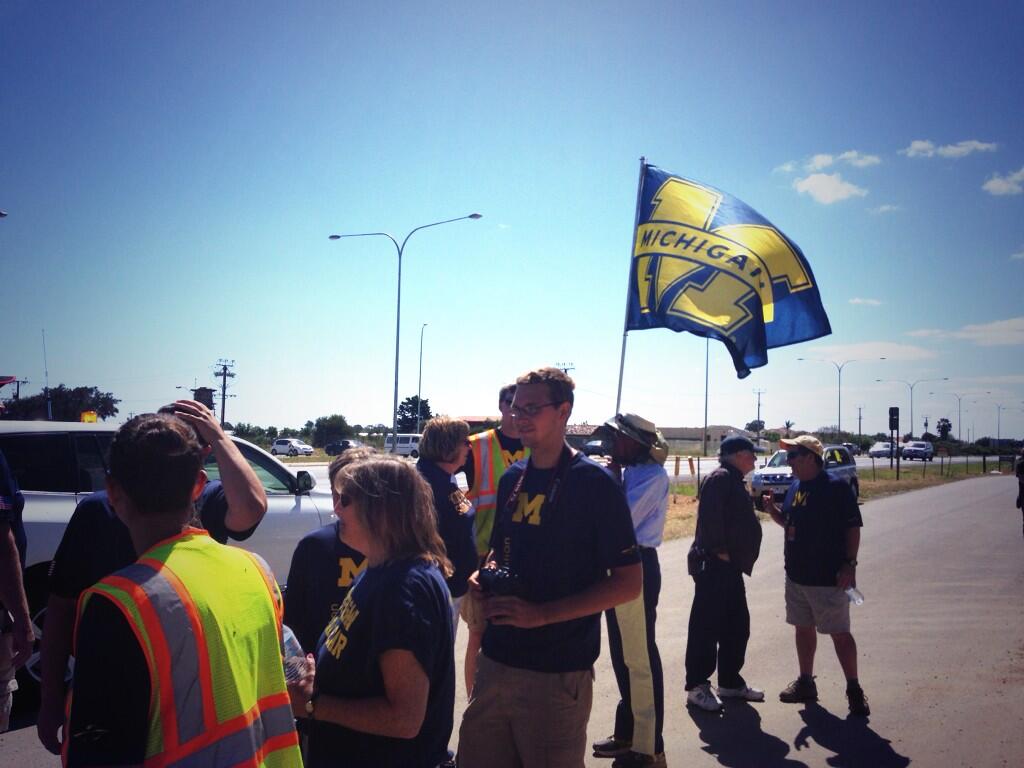 Generation arrives at EoT: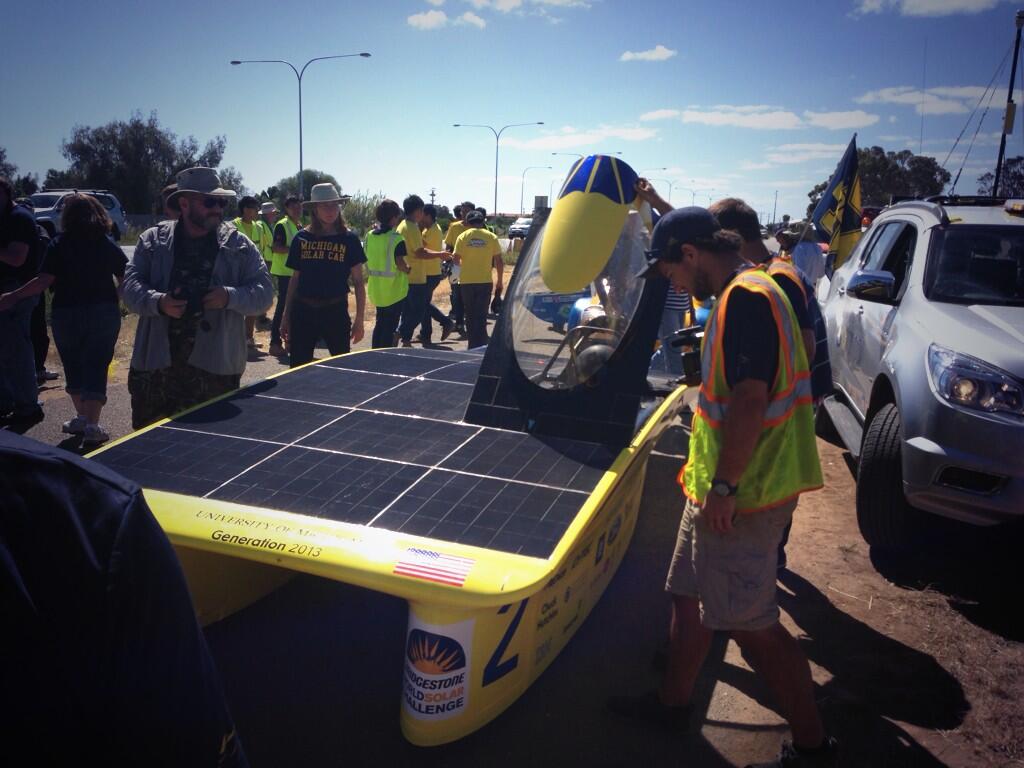 Geneation in Hindmarsh Square: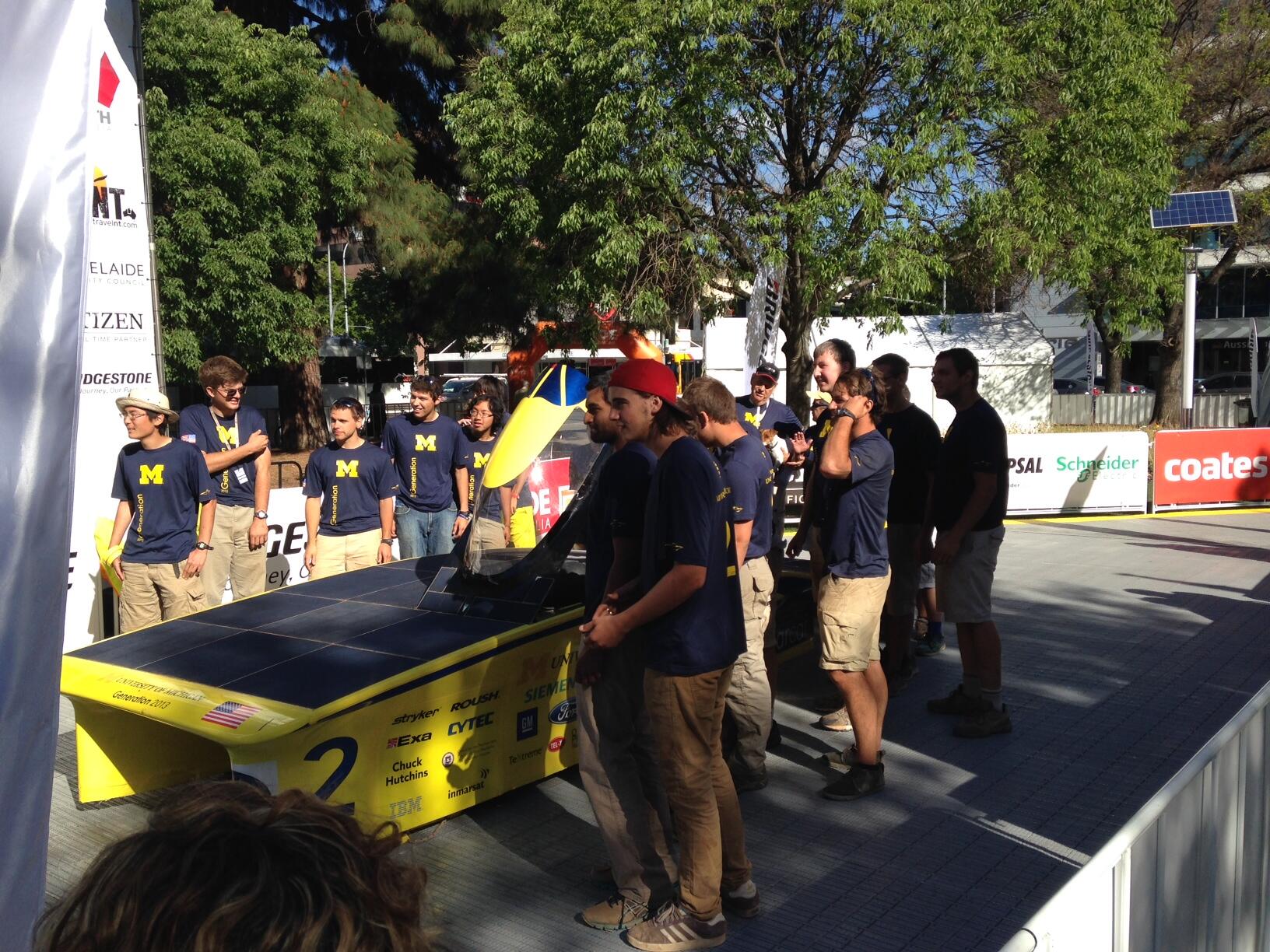 I understand the the fountain, in the Square, was not working this year. It's tradition that the teams celebrate the completion of the race by taking a dip in the fountain. Kiddie pools were used instead.
As MGo inmate 'santy' posted in my Day 5 thread, the rules for the Challenger class are very different from years past. The cars were about 10 mph slower due to these changes. Some teams adapted better than others. While I'm sure they were hoping for a better result, the team still completed the race and even managed to fix significant damage. They have already started collecting data for the WSC in 2015. And, I'm sure they're started an after-action review to determine what they could have done better/differently to alter the outcome of this competition.
I want to thank all of you that chose to read my posts (and comment) during the football season. I'll admit, this is certainly not the sporting subject that's at the forefront of everyone's mind (me included).
Special thanks to inmates 'gbdub' and 'santy' who are two former UM Solar team members. I appreciate your input and comments that provide valuable insight into the car, the team and the sport itself. I hope I did not do it an injustice and if I offended anyone, it was not done intentionally.
I will try to embed a couple of videos from the Team. Thanks again, I'll be back next year, in July, for the American Solar Challenge and Formula Sun Gran Prix. For those MGo inmates in Texas, the FSGP will be at the Circuit of the Americas in Austin TX. The Team would greatly appreciate your support. Go Blue.