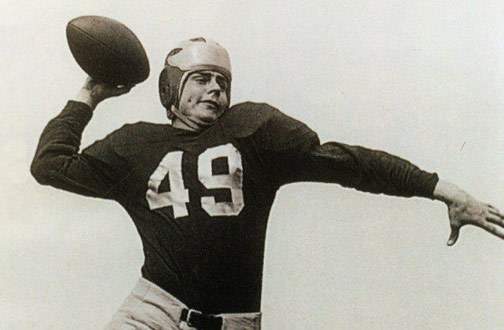 days until Team 134, Michigan football 2013 kicks off the season.
In honor and memory of the late, great Bob Chappuis. Played at Michigan in 1942, 1946-1947.
Halfback on the 1947 National Championship team.
Runner-up for the 1947 Heisman trophy
MVP of the 1948 Rose Bowl where Michigan thrashed USC 49-0 for their first national championship since 1933, completing the Mad Magicians magical run.
Named an All-American in 1947
Recipient of the Michigan Most Valuable Player Award (predecessor to the Bo Schembechler MVP) in 1946.
Two time All-Western Conference selection (1946-1947)
Inducted into the College Football Hall of Fame in 1988
In addition to his stellar career on the field, Chappuis served in WWII in the US Army Air Forces as a Lieutenant. On his first mission, Christmas Day 1944, the engine in his B-25 went dead and he had to jump from it. He landed in Italy where he was found and secretly harbored by various Italian families until the War ended.
Bob Chappuis, American hero and Michigan Football Legend.