Well, it might not have looked pretty, but we did win, folks.
We were very productive from a swearing standpoint, even accounting for several attempts to inflate the numbers a little bit. Fortunately, the overwhelming majority of those attempts involved the word "fuck", so it was relatively easy to come up with the adjusted totals. That being said, a special shoutout should go to MGoBlogger Gameboy who had a post which contained almost 140 instances of the word "fuck", and although this was removed from the grand total, I have no doubt that many of us were thinking that very post during the first half of the game.
How productive were we specifically? Along the tracked metrics, we managed 624 instances across almost 2,200 posts in two threads, which is a 33.97% increase in overall swearing from last week. This also represents a slight increase in the relative frequency of swearing - an instance every 3.50 posts this week, compared to one instance every 3.76 posts last week, or about a 7% increase in frequency. I consider that a significant increase.
Here is the overall cumulative picture as of this morning:
| | | | | |
| --- | --- | --- | --- | --- |
| | TOTAL | AVERAGE | STD. DEV. | % OF TOTAL |
| "fuck" | 1688 | 168.80 | 154.78 | 47.83% |
| "shit" | 417 | 41.70 | 20.83 | 11.82% |
| "damn" | 361 | 36.10 | 44.52 | 10.23% |
| "fire" | 289 | 28.90 | 32.79 | 8.19% |
| "suck" | 423 | 42.30 | 31.87 | 11.99% |
| "ass" | 227 | 22.70 | 24.43 | 6.43% |
| "put in Morris" | 124 | 12.40 | 13.63 | 3.51% |
Not much has changed from last week - we still clearly prefer "fuck". Indeed, when we try to inflate the numbers and confound the metrics, we stick with "fuck", so I post this also to show you where there is clearly some room to make more impact in the relative frequency of tracked words. Once again, "shit" and "suck" are a distant second and third, but the most significant jump actually belongs to references to firing people, most notably Al Borges. The frequency of these references jumped from 6.23% to 8.19%, so clearly the discontent with coaching and coaching decisions is beginning to rise significantly even from what it was.
Here is the game-by-game bar chart - you can click on the picture to go to Photobucket and see it at full size:
The normalized values show the relative trend in calling for heads, but again, for overall rage, we still have Penn State: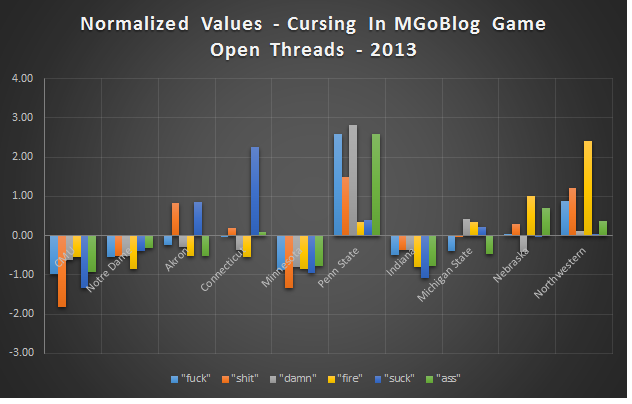 It should be noted here that I did adjust for some attempts to inflate the "fire" references too, but even after that, the Z-score for this metric was 2.41, which is VERY impressive and speaks to the lack of satisfaction with recent games / decisions. Even the "shit" metric, which typical was steady and in the background, jumped to a Z-score of 1.21, much of it used in a simile describing the overall quality of play.
Here is the "Fuck-Fire Relationship", which shows "fuck" starting to lag a little bit when compared to the overall trend of wanting people fired: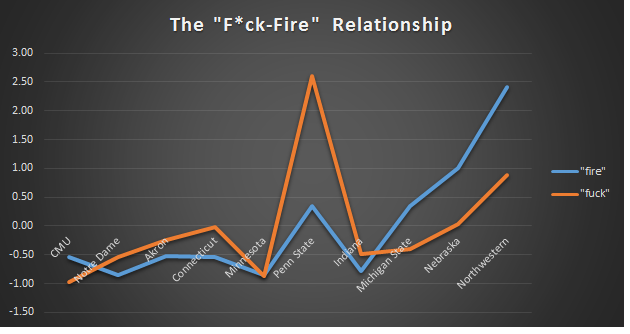 Here is the Mood Chart, which made an appearance on Twitter after the Nebraska game. The shift in normalized values that the Northwestern game caused may result in the quadrants being renamed, but it made sense when I created it. If you have suggestions, do post them.
What you can see, however, is that we have more confirmation that PSU is still the watershed moment of the season for both comments and cussing, but we were just as verbal if not as profane for yesterday's game.