It is time once again to revisit the state of our open threads and look at our expression of our passion for the University of Michigan and its football team.
It may come as a surprise to some that this week's Open Threads for the MSU game were comparatively tame. Perhaps that is because of altered expectations for the season or this game, but there were only 304 instances of swearing or calls for firing along the tracked words / phrases, which is about 30% of Penn State thread totals and still doesn't even beat out Akron or UConn in raw terms.
Yet again, we showed a clear preference for "fuck" during this game, which accounted for 107 of 304 isntances or 35.2% of the total. We are also clearly developing a preference for the interjection "fuck" and the adjective "fucking", as these were the overwhelming majority of the uses. However, when you look at the use of "fuck" during this game, it is actually not impressive relatively speaking - that honor belongs to something else, something which is indeed a major component of the Snowflake discussion in the last 12 hours or so. That would be references to firing people, or our "fire" metric.
First, let me show everyone the season-to-date summary:
| | | | | |
| --- | --- | --- | --- | --- |
| | TOTAL | AVERAGE | STD. DEV. | % OF TOTAL |
| "fuck" | 1206 | 150.75 | 165.01 | 48.38% |
| "shit" | 302 | 37.75 | 21.02 | 12.11% |
| "damn" | 302 | 37.75 | 49.30 | 12.11% |
| "fire" | 119 | 14.88 | 15.11 | 4.77% |
| "suck" | 338 | 42.25 | 35.62 | 13.56% |
| "ass" | 155 | 19.38 | 26.21 | 6.22% |
| "put in Morris" | 71 | 8.88 | 13.02 | 2.85% |
What is significant here is that, for the first time, "fuck" is less than half of the cumulative total. Further, the mix of "shit", "damn" and "suck" is becoming fairly even, so it seems that we are mixing it up a little more and that is definitely nice to see.
Here is how the swearing / calls for firing compares across other games: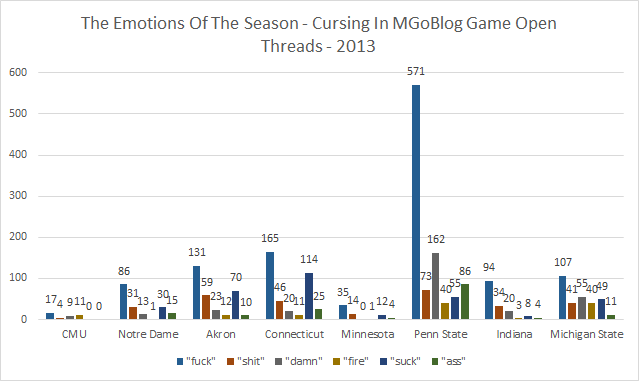 So, as you can see here, the Penn State game, possibly due to expectations, is still our watershed moment this season. Here are the normalized values for the season: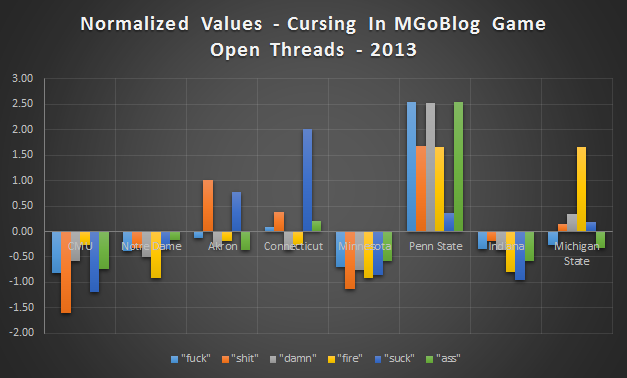 Again, once the season is over, the full report will add a layer to this and normalize against thread size as well so we can get a better view of the mood of the season. What you can see here, however, is that references to firing someone were far above average. You likely only need to go as far as the Coaching Snowflake thread to see how people feel, but this is evidence of that. Every other metric was within earshot of season means.
So, there it is for now, folks - clearly, people wanted to let the staff have it this time and we didn't even cuss all that much compared to other games.