So, recently we've seen a lot of domination in sports. The NBA had 3 second round sweeps with the Magic obliterating the Hawks, the Cavs got owned by Boston last night, the Blackhawks completely out-played the Canucks in game 6, there was a perfect game in baseball, Halak has owned the NHL playoffs recently, etc.
Got me thinking, what's the most dominating sports performance you remember? Can be series long, game, inning, whatever, scoreboard, style of play, etc. Something that gave me a "He's playing like a man among boys" feeling. A couple off the top of my head:
Michigan vs ND 2006 47-21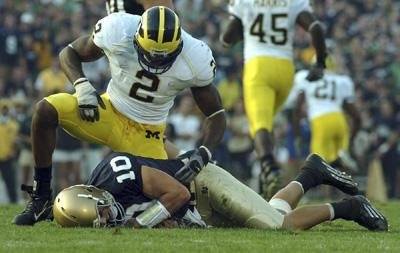 U of M's defense vs. Penn State 2006. Even though we weren't scoring, i remember thinking, no way we lose this game, this is a crushing D
.
An Ali fight i saw on ESPNClassic a while ago - he used his right hand twice in the 7 round fight. got a 10 second knockdown in the 4th, and a KO in the 7th
The '85 Bears defense. Scores in the playoffs? 21-0, 24-0, 41-10. They gave up 10 points in 3 games on their way to the Superbowl. Anyone know a scarier man in glasses than Mike Singletary?
Your favorites?
(Semi-OT because some of these might be michigan sports)