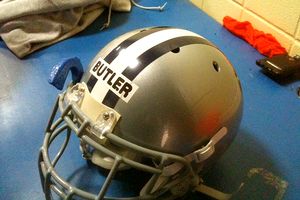 How long until Jon Kitna transfers to the San Diego Chargers?
Dallas Cowboys coach Jason Garrett wants his rookies to earn their spots on the roster in so many different ways.

And to emphasize what it means to play for the Cowboys, Garrett won't even allow the rookies -- from first-round pick Tyron Smith all the way down to the undrafted free agents -- to wear the star decal on the side of their silver helmets.

And Smith is the projected starter at right tackle.

"The star is very important to us," Garrett said after Monday's walkthrough practice. "The star is an international symbol. It's the Dallas football Cowboys. And the players hear me say that a lot. The star means something.
Almost everyone is destroying this as a gimmick well below the standards of professional athletes. Agree? Disagree? Slow Tuesday?