With every game this football season featuring a former great being honored, I might as well put this up on the board for the 2013 season. Former coach Bump Elliott has never been welcomed back to Michigan Stadium and honored. Sure, things weren't great under Bump, but he had a near-National Championship in 1964, going 9-1-0 and winning the Big Ten and Rose Bowl. He was also a player on the 1947 & 1948 National Championship teams with his brother Pete who he would eventually coach against when Michigan played Illinois.
In 1965, Michigan signed a bruiser of a running back out Northwestern High School in Detroit by the name of Ron Johnson. Johnson set single game records for rushing yards and touchdowns at 347 and 5 respectively in a 34-9 senior day drubbing of wisconsin in 1968. Those records still stand to this day. Ron Johnson is the only player from 1941-1978 to have a picture on the hallway walls of the Michigan Stadium media deck-
A sad article came out a little under a year ago about Ron and how he has Alzheimer's and lives in a residential care facility. http://www.nytimes.com/2011/09/19/sports/football/ex-giants-case-is-a-window-on-nfl-aid.html?pagewanted=all
Dave Brandon has said that there most likely will be a night game in 2013 at Michigan Stadium. And it being a special game, I'm sure there will be some kind of special jersey that Brandon wants the team to wear to obviously make the kids happy but sell some of them. Why not do a real 1960s Throwback uniform and welcome back Bump, Ron and any memeber of the Michigan football teams from that era who hasn't been back?
Here my concept design for what they could do-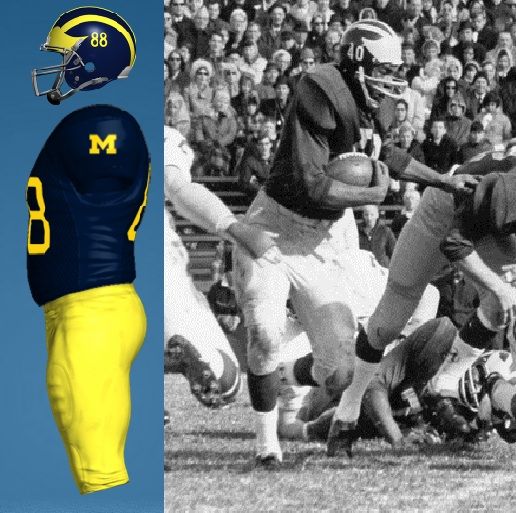 Helmet numbers, gray facemasks and white chinstraps. Aka the Legacy helmets.
No jersey numbers on sleeves or shoulders.
Long sleeve Blue adidas undershirts to simulate the baggy sleeves/long sleeves the jerseys back then had.
Maize Block M on shoulders.
Blue jersey with bigger Maize numbers.
PLAIN Maize pants that resemble those worn for UTL.
Two-tone socks. White socks with retro Michigan logo on them as seen on the blocker in front Ron Johnson in the picture aboves left leg. Blue socks underneath the White ones.
Black shoes
Now in the picture above, you don't see the Maize block M on the shoulders. This is because this picture was taken in 1967. Sleeve Ms weren't added until 1968. As seen in the 1968 team photo-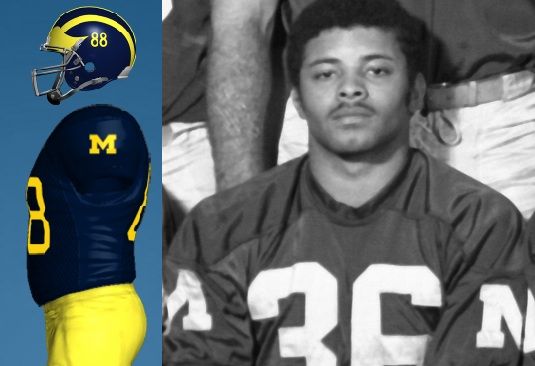 IMO, I think it would be MUCH better to do an actual throwback uniform instead of making new ones or doing a fusion of different eras like have seen so far.
Bump Elliott is 87 and Ron Johnson is 64. Michigan already missed out on honoring LEGEND from the Mad Magician 1947 team, the late Bob Chappuis. I think Michigan should at the very least bring Bump back and honor him for all that he did in his time at Michigan as a player, assistant coach and head coach.
Would love to hear feedback on this. I just think if Michigan is going to anymore special uniforms, they need to do some kind of thing like this. Because it is sad how they have not really brought back great players from that era like Bob Timberlake, Ron Johnson etc.
Welcoming back greats, wearing TRUE throwbacks and not imaginary ones, Dave Brandon making profits from jerseys sales. Everyone wins, IMO.