EDIT: Link http://www.grantland.com/blog/the-triangle/post/_/id/51259/the-hardcourt-shuffle-college-basketball-gets-even-more-confusing
Pretty fair and interesting analysis of Duke and Miami as well as the chaos in the top half of the B1G. Love this graphic: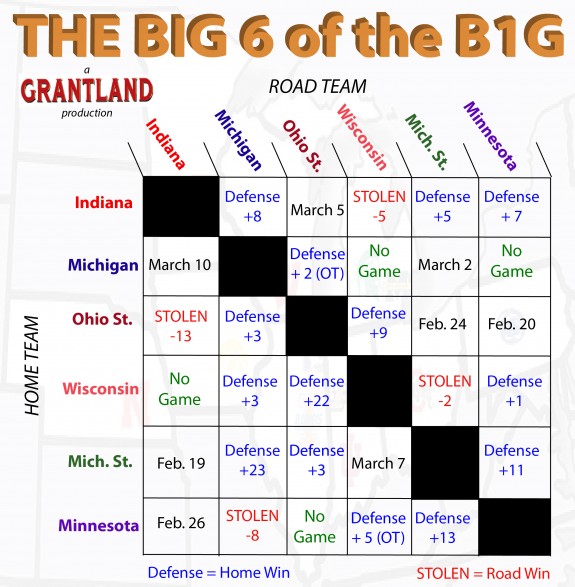 This puts top half B1G road records at:
Indiana: 1-0 (@Michigan, @MSU, @Minnesota remaining)
Michigan: 1-4 (done)
Ohio: 0-3 (@Indiana remaining)
Wisconsin: 1-2 (@MSU remaining)
Michigan State: 1-2 (@Michigan, @Ohio remaining)
Minnesota: 0-3 (@Ohio remaining)
Michigan had the toughest schedule against the top half playing all 5 on the road and only getting 3 home matchups. Road wins are hard to come by and I would expect Michigan to be win a share of the B1G crown IF they can protect Crisler. If Indiana or State manages to win 3 road games, they probably win the conference outright, but I doubt that happens.
As bad as the loss in East Lansing was, the haunting loss here is Wisconsin. We had them and a 2-3 road record against this group would be nothing to be ashamed of and would have put us in solid position to win the conference. I still fully expect Michigan to have a shot in the end with 2 weeks to regain some mojo before Michigan State visits Ann Arbor.