After his performance in this weekend's Winter Cup Challenge (a national invitational meet), sophomore gymnast Adrian de los Angeles was named to the U.S. National Team, joining fellow Wolverine Sam Mikulak. (Sam couldn't compete this weekend due to injury, but he and his fellow Olympians are automatically named to this year's US team.)
Adrian was the surprise all-around leader after the prelims, going back and forth with Olympian Jake Dalton (who competes for Oklahoma). Dalton pulled it out in the final event, with Adrian finishing in second, ahead of Danell Levya, the all-around bronze medalist in last year's Olympics. Pretty good company.
Also making Michigan proud was sophomore Stacey Ervin, who was 7th in the complicated qualification point system going into the finals even though he didn't compete in all 6 events, making the finals on the strength of his placing top 10 in 3 out of his 4 prelim events (including tying Adrian for 2nd in floor). In fact, he was the only qualifier in the top 15 not to have been in all 6 events.
The following picture of Adrian and Sam is posted as a public service to prove that gymnastics isn't only fun and games; success follows commitment to down-in-the-dirt (or chalk) blue-collar teamwork.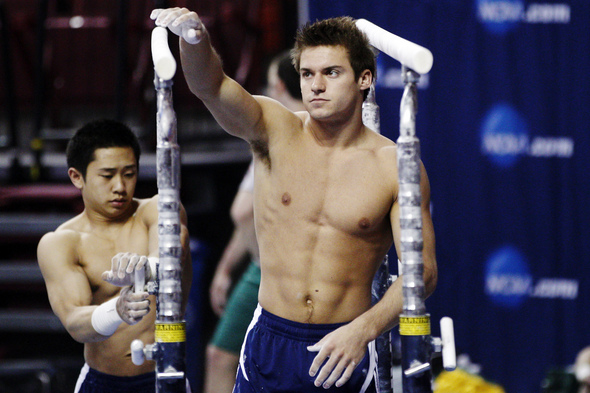 A full report of Mens' Gymnastics' recent success wouldn't be complete without adding that 5th-year senior Syque Caesar (who competed in the Olympics for Bangladesh), broke the NCAA record for parallel bars when Michigan upset #2 Stanford two weeks ago. Not surprisingly, he was named both national and Big Ten gymnast of the week. Boy, these guys are good.