On paper, North Carolina State is a top 10 team. At the start of the season, they were picked to finish first in the ACC. Yes, that ACC, the one with Duke and North Carolina in it. 6-9 Junior Forward CJ Leslie was picked to be ACC Player of the Year, and 6-2 freshman guard Rodney Purvis was picked to win ACC Freshman of the Year. Last year they were picked to finish near the bottom of the conference. What a difference a year can make.
Jump in the way back machine for a moment, and we'll go back to a crisp May morning back in 2006. In the wake of losing successful head coach Herb Sendek to Arizona State, NCState was running out of options. They had failed to secure a number of name coaches they had targeted, including a promising coach from West Virginia(small world)...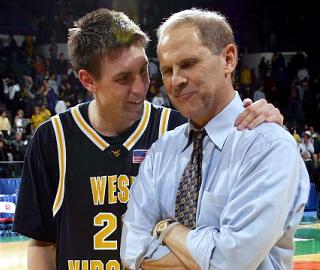 before settling on Sidney Lowe, who(small world) was at that time an assistant coach for your Detroit Pistons...Lowe's main qualification was being the point guard for North Carolina State's 1983 National Championship team. That went about as well as you would expect, and Lowe followed up Sendek's 5 consecutive tournament runs by missing the tournament 5 years in a row. Lowe was soon fired, the skies opened up, and Mark Gottfried descended from the heavens.
Last year(Gottfried's first) he led the wolfpack to a 24-13 record(9-7ACC) defeating
Steve Fisher's 6 seed San Diego State(small world), as well as 3 seed Georgetown in the NCAA tournament before eventually falling to 2 seed Kansas by 3 points.
NCState returns 4 of their top 5 scorers from that team, as well as welcoming 3 burger boys(McDonalds All Americans) to the fold. Of note, the wolfpack lost senior 6-5 swingman CJ Williams to graduation, as well as his 11 points and 4 rebounds per game. They also lost 6-9 reserve center (20 mins/g) Deshawn Painter along with his 6pts and 4rebounds to transfer.
However, they brought in 11 points/game (so far) 6-2 burger boy shooting guard Rodney Purvis,
15 poinst/game 6-8 burger boy forward T.J Warren,
and 15 minutes/g reserve 5-11 burger boy true point guard Tyler Lewis.
Oh but how will the new players mesh with the old guard? The results have varied.
6-8 senior forward Richard Howell has benefitted from the competition. He has seen his minutes drop by 3, while his points have jumped from 11 to 15per game while shooting a ridiculous .78 from the field. That's not a typo. 15 pts at 78% plus 8 or 9 boards. Monster territory here.
6-6 senior swingman Scott Wood brings in 11 points/game...his minutes and production are down a tad.
6-5 junior point guard Lorenzo Brown brings in 11 points and 6ish assists. His mastery of the pg position last year(was an off guard) is credited for a lot of the wolfpack's improvement.
6-9 junior forward CJ Leslie may be regretting not going pro(as he had considered) this year, as his average has dropped from 15 points per game down to 11. He is still pulling down 6-7 rebounds. I look for him to go all out under the bright ESPN lights on Tuesday.
So there you have it. Their shortest starter is 6-5, their tallest is 6-9...Long in the guard, middling in the middle, a lot like Michigan. This is a damned talented team, and Michigan could lose this game. But I take some comfort that Jeremy Atkinson, who plays a lot like GRIII, went off on this team for 28 points and darn near led NC Asheville to victory...I expect Robinson to have a big game. I like our team. Beilein likes this team. And Michigan is playing at home. I'm going with an oldie but a goodie...75-73, Michigan wins.
Go Blue!
EDIT: It looks as if the line has settled at Michigan -7. Vegas has some faith in the maize and blue. Also of note: NCState has pulled a bit of a Minnesota and fired Glen Mas-er-Tom O'Brien, whose darkest sins were coaching at a mediocre program and not begging Russell Wilson not to transfer. The good news: sounds like ESPN 4*(3* to scout and rivals) NCState Wide Receiver commit Kyrin Priester is looking for a new home. Solid name if nothing else.